AC Sparta Prague
Jersey Sparta adidas home 2022/23 women
AC Sparta Prague
Jersey Sparta adidas home 2022/23 women
Women's red adidas jersey, worn by Sparta players during home games.
Official licensed merchandising
Fast delivery
to your home
Verified
by customers
Wide selection of dispensing points
Description
Made of soft and absorbent AEROREADY material, the mesh stripes make it comfortable while keeping the body dry. On the left chest is the Sparta logo in the form of a precise woven patch. The neck has Sparta printed on it.
straight fit
neck with ribbed hem
Sparta logo on chest
Code: HB5382
Brand: adidas
Material: 146/152/146/152
* nejnižší cena za posledních 30 dní byla 1 799 Kč (0%)

Jednotlivé velikosti u tohoto produktu se mohou lišit oproti velikostem produktů jiných značek.
Na základě zkušeností zákazníků doporučujeme pečlivě zvážit výběr velikosti dle dostupné velikostní tabulky. Většina zákazníků vybírá velikost menší, než je jejich velikost u jiných značek.
---
Complete your collection
Jersey Sparta adidas home 2021/22 women
in stock
1 007 Kč 1 549 Kč
* nejnižší cena za posledních 30 dní byla 1 549 Kč (-35%)
Product detail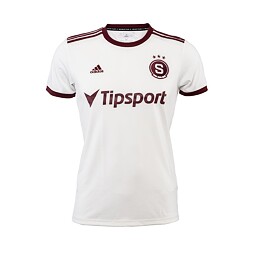 Jersey Sparta adidas outdoor 2021/22 women
in stock
1 007 Kč 1 549 Kč
* nejnižší cena za posledních 30 dní byla 1 549 Kč (-35%)
Product detail